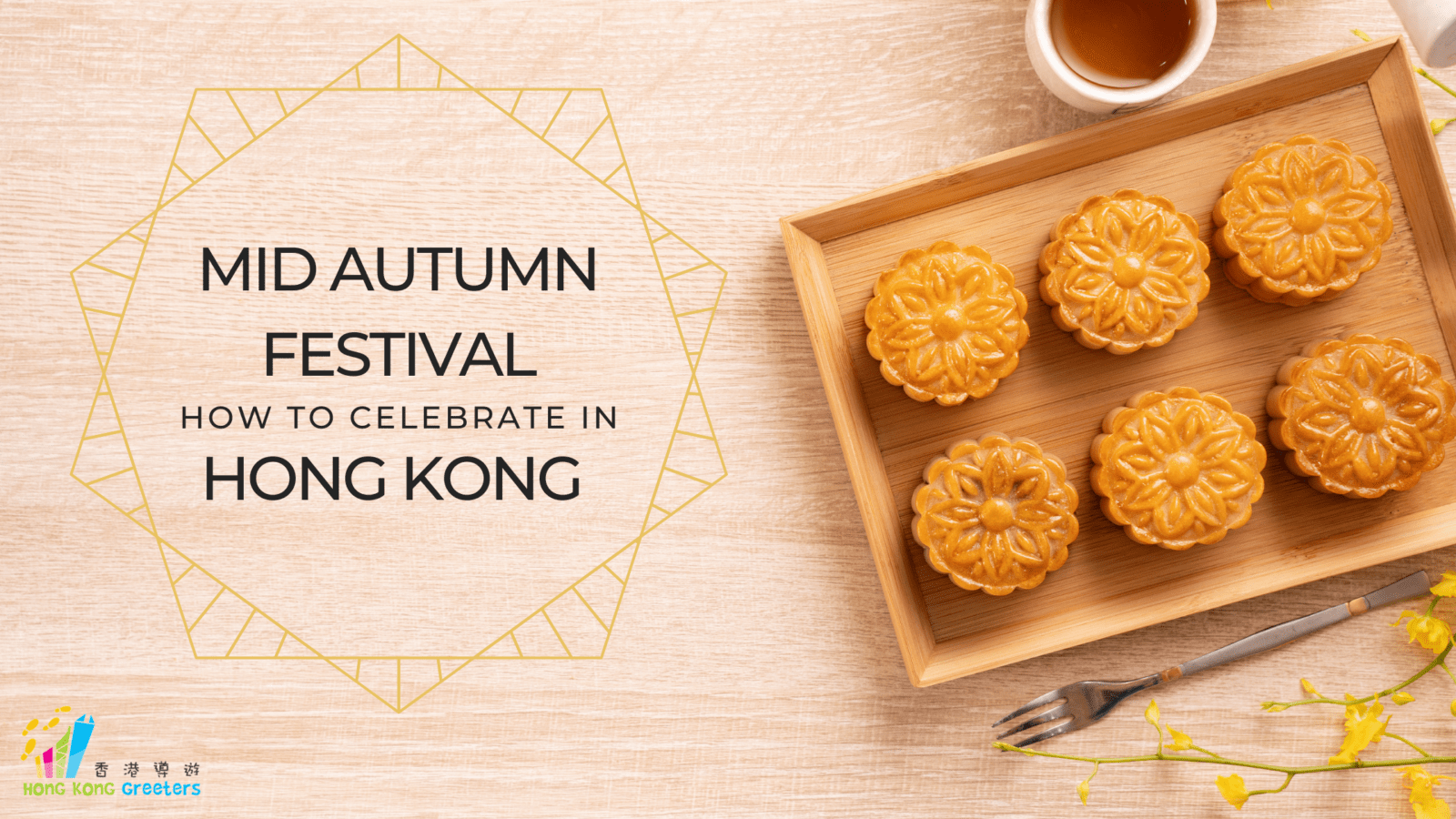 25 Sep

How To Celebrate Mid-Autumn Festival In Hong Kong

You may have heard of Mid-Autumn Festival, but what exactly is it and how is it celebrated in Hong Kong?

In this guide, we'll take a look at the origins of the festival and why it continues to be important to this day.
When is Mid-Autumn Festival?
Always coinciding with the full moon on the 15th day of the eighth lunar month, China's equivalent to the annual harvest festival is celebrated each year in strict accordance with the lunar calendar.
2020's Mid-Autumn Festival will take place on Thursday 1st October.
The Legend Behind the Mid-Autum Festival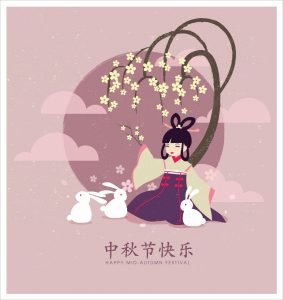 An ancient Chinese traditional custom that goes back nearly three thousand years, the Festival was most likely established as a communal celebration for the annual harvest, but also has some interesting folklore behind it. While some believe that the festival pays tribute to a mythical dragon that brought much-needed rain to farmers' crops, a more common version of the Mid-Autumn tale focuses on Chang'E, goddess of the moon and her husband, Yi the Archer.
The story has it that there were once ten suns in the sky, scorching the crops and causing great famine. Eventually, Yi deftly shot down nine, leaving just one sun. Rewarded for his skill with the elixir of life, Yi entrusted the potion to his loyal wife, Chang'E and went out hunting. In his absence, a thief threatened to steal the elixir from Chang'E. Fearing it was about to fall into the wrong hands,  she drank it herself and escaped to the moon, where she could watch over her beloved husband for eternity. Yi gave tribute to his lost love by leaving offerings of food and drink each night – traditions that continue to this day, along with burning incense and performing lion dances in her honour.
The Story of the Jade Rabbit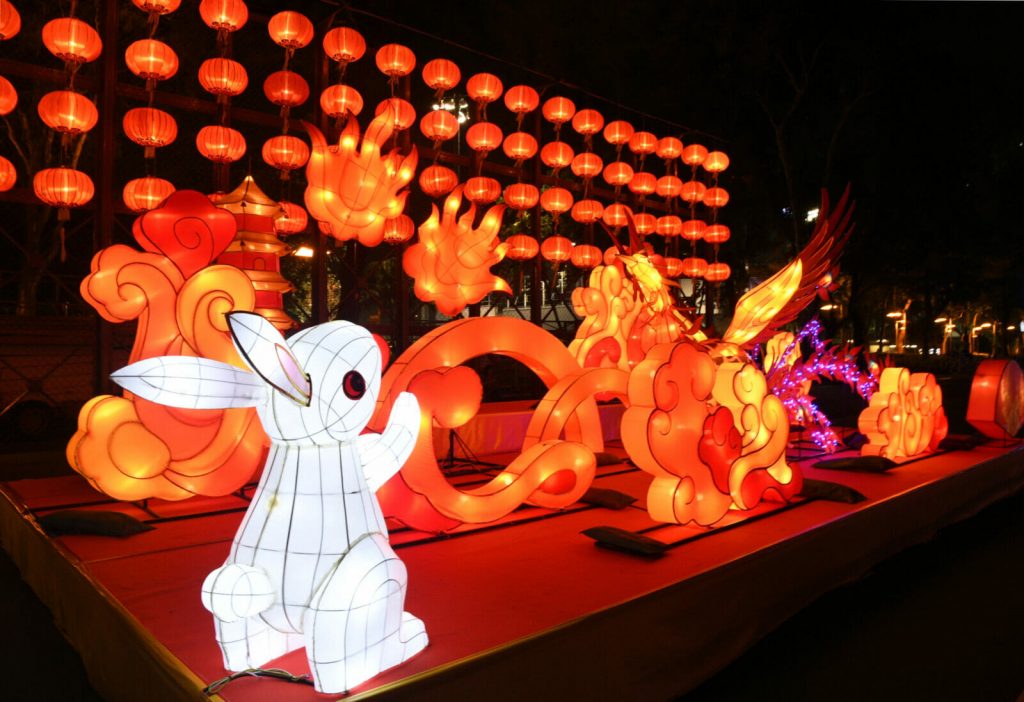 Another famous Mid-Autumn tale centres around the tale of the Jade Rabbit. The legend goes that three immortals were sent to earth by the Jade Emperor to identify a suitable animal custodian for the precious elixir of life. The immortals, disguised as destitute peasants, went into the forest where they came across a fox, a monkey and a rabbit.
Appearing quite starving, the immortals begged for some sustenance from the three. Both the fox and the monkey immediately offered the poor strangers some food. However, the rabbit, who had no food to give, instead offered herself up as a meal, jumping straight into the immortals' campfire. So impressed were the immortals by the rabbit's sacrifice, that they decided to send her to the moon to live forever. This is why the revered rabbit now lives on the moon alongside Chang'E, working forever more as a custodian of heavenly medicine.
Lanterns

Another significant part of the tributes to Chang'E are the colourful lanterns that light the night sky over Mid-Autumn Festival. Said to allow the goddess to more easily see her followers on Earth. The displaying of intricate lanterns continues to this day, with Hong Kong Island's Victoria Park displaying and selling them in their hundreds.
Another top spot for lantern lovers is the display in front of the former Kowloon-Canton Railway Clock Tower in Tsim Sha Tsui, where the Hong Kong skyline provides the perfect backdrop to this colourful and festive display.
Mooncakes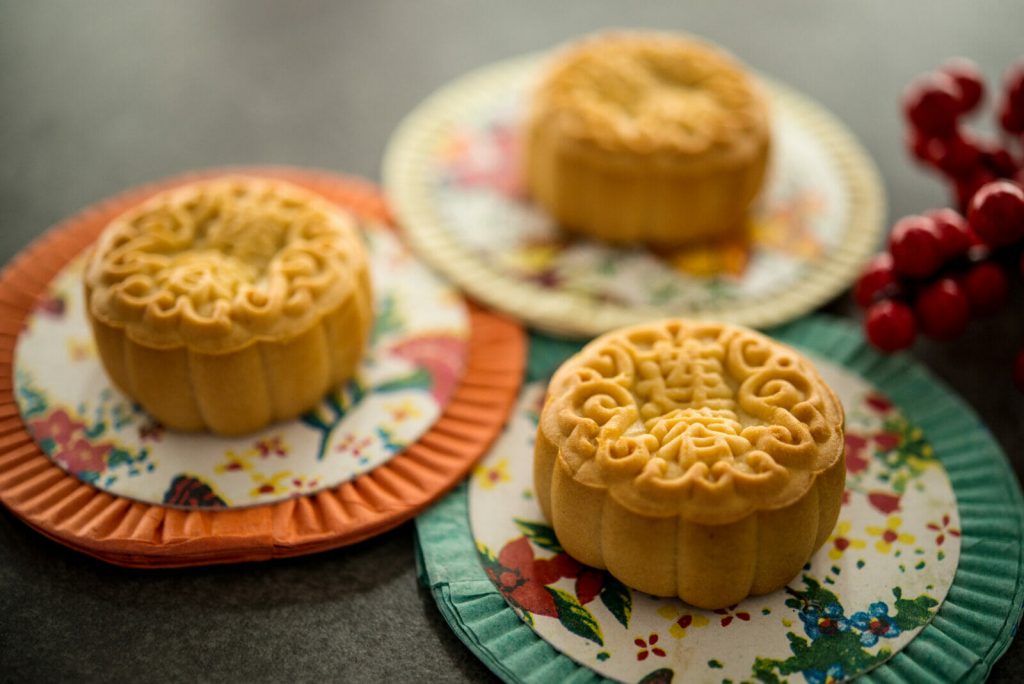 Of course, like most other Chinese festivals, food takes centre stage at Mid-Autumn, with mooncakes being a particularly popular way to mark the occasion. While you can find a vast array of themed mooncakes with an endless selection of different fillings, the traditional variety consists of a beautifully designed pastry, filled with lotus seed paste and a rich salted duck egg.
These rich cakes are designed to be eaten in small slices with a cup of hot tea. It often feels like a real shame to cut into the embossed pastry, so elaborate are the designs.
The giving and receiving of mooncakes is also very significant in Hong Kong culture, with every high-end hotel in the city offering their own lavishly packaged version of this traditional classic with which to wow your friends, family and business associates.
Family Gatherings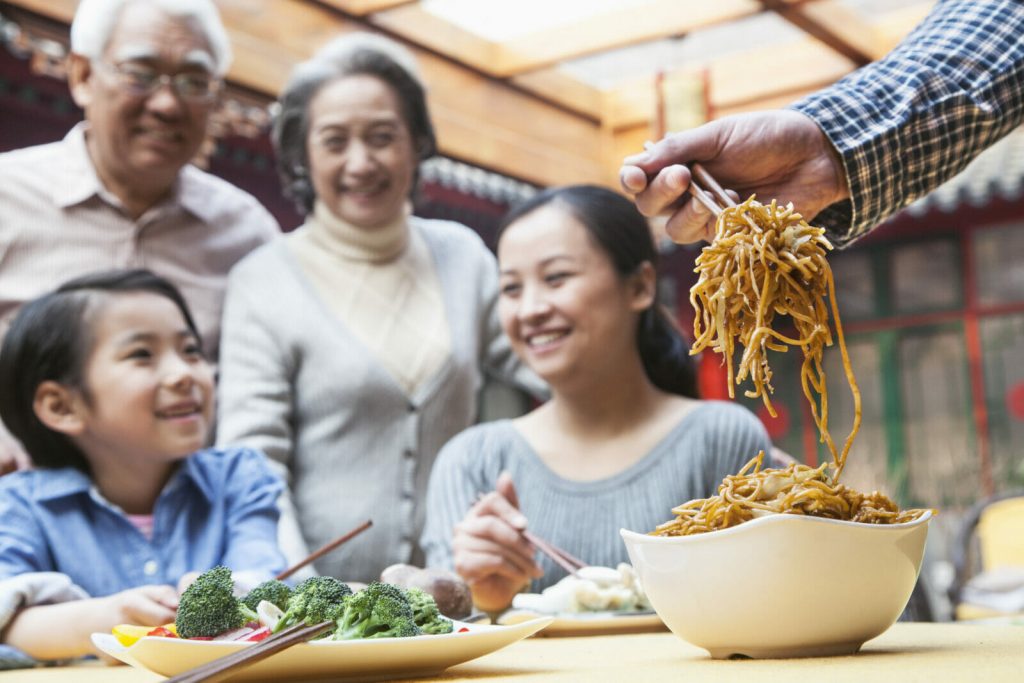 The famous Song Dynasty poet Su Shi wrote "May we live long and share the beauty of the moon together, even if we are hundreds of miles apart" and this spirit of family reunion persists to this day. Mid-Autumn Festival is traditionally a time for families to gather and reconnect over a reunion dinner.
After dinner, families will typically go "moon-gazing" to admire the full yellow harvest moon as it orbits at its closest point to the earth – a magical sight at this time of year.
Find out More About Chinese Myths and Legends
In Chinese culture, the Lunar calendar carries great significance. Find out more about the Lunar New Year, also known as Chinese New Year here.
If you're interested in learning more about Chinese myths and legends in Hong Kong, we recommend you join one of our private walking tours.  We'd love to show you some of the many ways that these stories are celebrated and immortalised in Hong Kong's temples, architecture and also at Repulse Bay's colourful Lifeguards' Pavillion.