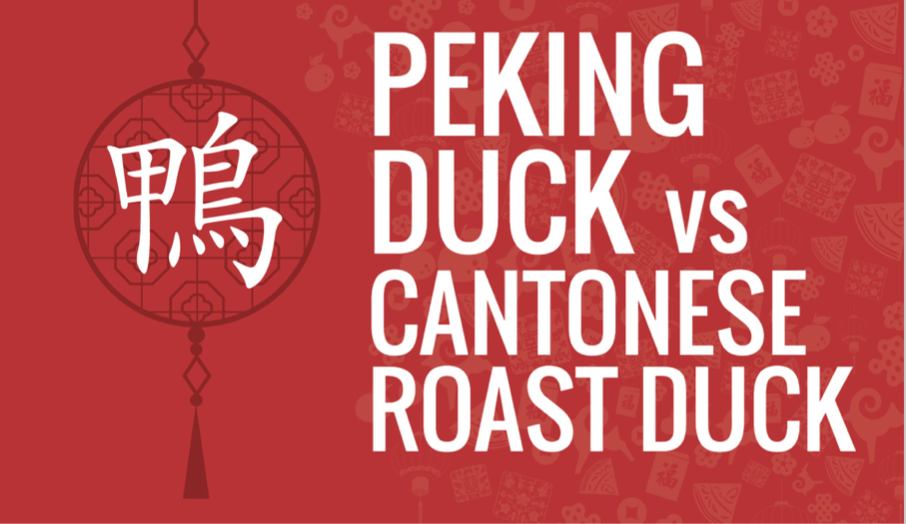 27 Aug

Peking vs Cantonese roasted duck, what's the difference?

If you have ever pondered this question, or didn't even know there was a difference, Peking duck and Cantonese duck are two different dishes from the North and South of China respectively. Peking duck was originally created for the imperial elite, Cantonese duck is a more comforting and affordable family dish.

Cantonese duck is much easier to prepare, whereas the Peking version requires pre-ordering a few days ahead from a specialist restaurant.  Our newest infographic shares some differences between the two delicious dishes and where to eat them, plus some additional delicious 'must-try' roasted meats restaurants for your Hong Kong visit.

If you enjoy Cantonese roast duck, then you should also try 'charcoal furnace roast goose in plum sauce' or Cantonese 'cha-siu' which is seasoned boneless barbecued pork. The best place to try is: Yat Lok Barbecue Restaurant, Stanley Street, Central, Hong Kong.

Having Beijing roast duck is one of the two 'must does' when in Beijing: climb the Great Wall and eat Peking duck. The Huffington Post declares it as the number 1 dish in the world to try before you die! In Hong Kong, find it at Shat Tin 18 at the Regency Hyatt Hotel, Shatin, New Territories.

Book a food tour with us today by visiting our food tour page, or by using the booking link at the bottom of the page.

Book Your Private Food Tour Instantly Below
We use a third party system to provide a one-click booking service to you.
If you know the date (and the calendar is free), the amount of hours and how many people will be coming, you can book straight away.