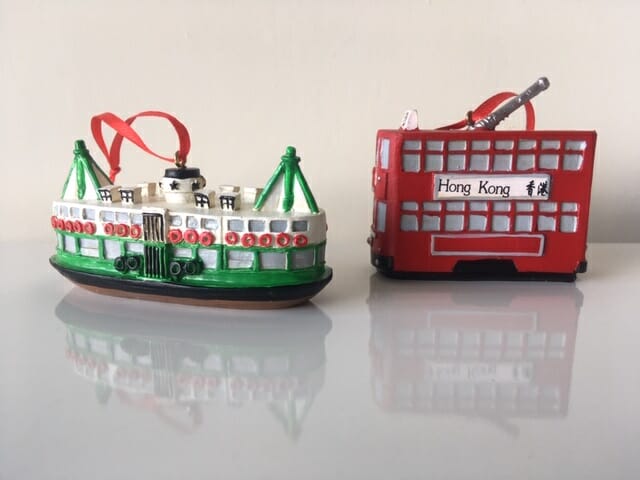 14 Oct

Homegrown Hong Kong Gifts & Souvenirs Guide

Hong Kong is known as a shopping metropolis, but what are the best gifts to return home with for family and friends? And where to buy them? Sometimes there is so much choice it is a little bit overwhelming. We have done the shopping research for you.  It involved us spending time in each shop (such hard work) so that we can now share a selection of our favourite homegrown Hong Kong gifts you will love to take home for others… and maybe some souvenirs for yourself!

All the items below are Hong Kong brands or Hong Kong made items and we are not affiliated with any of them. We just happen to think they are really, really good.

We've got suggestions for accessories and homeware, jewellery, health and beauty, food and drink, quirky gifts and books. So hopefully you will find something for everybody.
Accessories and Homeware Gifts
Bags by Doughnut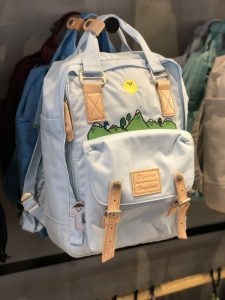 We are in love with these Doughnut bags. A new company started in Hong Kong in 2013, with a host of young and upcoming designers in the team.
They mainly target the backpack market with some cute designs, and collaborations with popular cartoons and comics. There are some great shoulder bags and luggage as well.
The reason we love them is because they have been designed with the user in mind, all necessary pockets and zips exactly where you need them.
We also love supporting homegrown Hong Kong talent.
Price-ranges from HK $150-500 so they are very affordable too.
Hong Kong Island: 454 Hennessey Road, Causeway Bay
Kowloon Peninsula: 68 Fuk Wa Street, Sham Shui Po
New Territories: 22 CityLink Plaza, Shatin
Traditional Porcelain from Yuen Tung China Works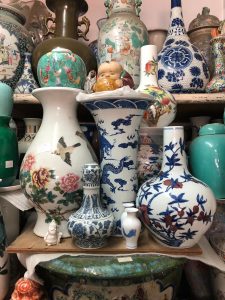 This is where you'd go for a special gift.  Perhaps a gift for yourself.  Established in 1928, this was Hong Kong's first and now sadly last remaining ceramics factory.  Everything is exquisitely hand-painted and you can often see craftsmen at work doing just that.
It's an Aladdin's cave where you will find vintage pieces displayed alongside newer items.  You never know quite what you'll find as you treasure hunt through the precariously stacked tea pots, bowls and ginger jars.  Prices vary from expensive to affordable.
Support this amazing business at:  Kowloon Bay Industrial Centre, Unit 1-, 3/F., Hong Kong, Wang Hoi Rd, Sam Ka Tsuen
Modern Ceramics by Loveramics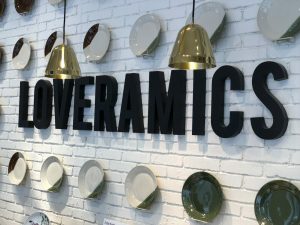 For gorgeous contemporary ceramics with a Hong Kong vibe, visit Loveramics at the following locations on Hong Kong Island:
97 Leighton Road, Causeway Bay
Shop 104, Barack Block, Central
Pulse Shop, 28 Beach Road, Repulse Bay
In addition to ceramics, Loveramics also stocks various other kitchen related goodies such as chopping boards, chopsticks, tea towels and candles.
Sum Ngai Brass Ware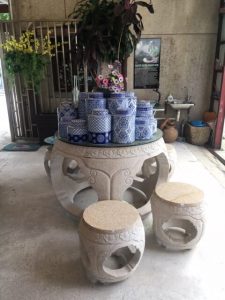 This one's a little off the beaten track located in the New Territories.  It has been around for donkeys' years. Their wares have been a staple in Hong Kong homes since the company relocated from China to Hong Kong after the Japanese war.
With famous clientele and distinctive products, this is the hidden gem that won't be in your guidebooks.
If you want a statement piece for your home or garden, this is a must. Many of these items are large and heavy, but Sum Ngai are experts at arranging international shipping.
In addition to brass ware they stock ceramics, furniture and other covetable items. There are also plenty of smaller items that would fit in your suitcase.
Ginger Jar Lamp Company
Hong Kong is a city where the traditional and modern co-exist. The Ginger Jar Lamp Company embodies this with their range of lamps. They pair vintage ceramic ginger jars with modern artisan lamp shades to great effect.  We love how the bases and shades are mix and match, so you can create your own unique base/shade combo.
Jewellery
Obellery
We are spoiled for choice when it comes to jewellery in Hong Kong.  We like Obellery based in Hong Kong's trendy PMQ (PMQ is home to a kaleidoscope of unique shops).  Their pieces are contemporary and reasonably affordable.  Hong Kong lies on the Pearl Delta and although pearls are no longer harvested here, there are some gorgeous modern pieces which echo Hong Kong's long history of pearl farming. We also rather like their quirky Hong Kong postbox pendants.  As an added bonus, Obellery offer one-off workshops, so you could even make your own unique piece of jewellery to take home with you.
Health and Beauty Gifts
White Flower Oil
First developed in the 1920's by Gan Geok Eng, this medicinal 'cure-all' oil has been manufactured in Hong Kong since 1951.  It originated in Penang, briefly relocated to Singapore before settling in Hong Kong.  Known locally as Pak Fah Yeow, it is produced in a Chai Wan factory.
Purported to give relief from congestion, headaches, dizziness, muscular pain and travel sickness, customers also us it on insect bites and as an antiseptic.
It's pungent smell doesn't appeal to everyone with a potent mix of eucalyptus, menthol, lavender and camphor. The small palm-sized bottles do however take up minimal space in a suitcase and could be the perfect gift for the hypochondriac in your life.
Cha Ling
Imbued with many herbal properties, tea is part of Hong Kong's intangible heritage. Cha Ling capitalises on tea's many beneficial properties and has infused them into their beauty products. Technically these products are made with Pu'er tea from the mainland and produced by a French company, but they are oh so gorgeous. With stores only in Paris, Mainland China and Hong Kong (boasting 4 stores), this is one of the very few places you can buy them.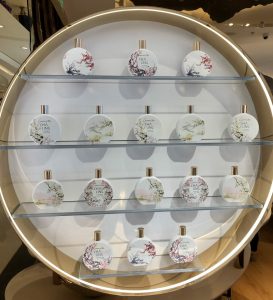 Cha Ling Store Locations Hong Kong:
Harbour City and K11 Musea in Kowloon or Causeway Bay and Pacific Place on Hong Kong Island.
Food and Drink Gifts
Chilli Sauce – Yu Kwen Yik, Tai Ma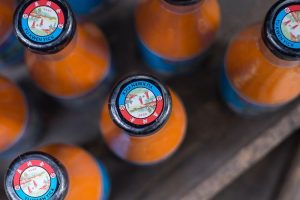 Cantonese Food doesn't have a reputation for being spicy.  When Yu Siu-kee arrived in Hong Kong from Mainland China and found it lacking, he missed it so much that he created his own chili sauce.  His family run business is still going strong almost a century later. It has operated from various addresses in Sai Ying Pun neighbourhood since 1922.  This is a lovely low-cost gift for the foodie in your life.
Photo: ZolimaCityMag
Honey From Wing Wo Bee Farm
Hidden away in the hills above Sha Tin is Wing Wo Bee Farm.  Their docile Asian bees produce this thoroughly homegrown and delicious honey. This could be the perfect gift for a recipient with a sweet tooth.
Although you can visit the farm, please contact them in advance to be sure they will be open.   Alternatively, their honey can be bought at the Hyatt Regency Hotel next to University Station.
The bees are not too active when the weather turns cold, so you are more likely to see them dancing in the warmer months.
We said these bees are docile, take a careful look at the man in the photograph.  His beard is buzzing!
Rose Petal Jam
This rather special jam has been selling at the Mandarin Oriental cake shop for over 30 years.  It's quite pricey, but makes the perfect bijou luxury gift for a glamorous friend or perhaps to curry favour with your in-laws.  The recipe is a well kept secret.
If you want to try this homegrown delight before you buy, why not make a reservation for afternoon tea and scones?
Visit The Mandarin Cake Shop at 5 Connaught Road, Central +852 2525 4008
Snake Wine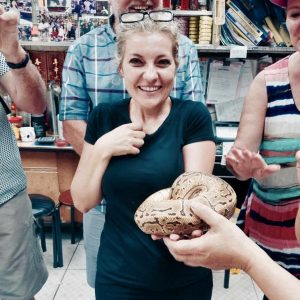 If you are looking for a daring gift for an adventurous soul, consider a bottle of snake wine.  This should definitely be purchased from a reputable source, rather that a market stall to be sure that it's as ethical and safe as possible.  Try Se Wong Sung in Wan Chai,  She Wong Lam in Sheung Wan or Shia Wong Hip in Sham Shui Po.   These are all family run snake restaurants, but should also be able to supply wine.
As a side note, you could have the opportunity to handle a snake in the Sham Shui Po shop.
Hong Kong Craft Beer
This is a crowd-pleaser.  Who doesn't like an interesting craft beer, brewed with care?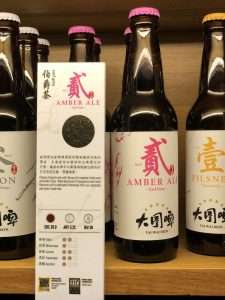 Craft Beer is having a big moment in Hong Kong.  A number of homegrown microbreweries have mushroomed across the city and produce some excellent homegrown beers. After a recent visit, our current favourite is Tai Wai Beer, but you can take your pick or buy a selection.
Our favourite brewery tour is at the Lovecraft Brewery in Tsing Yi.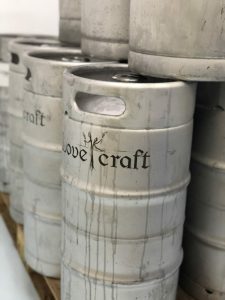 This state of the art facility is run by Master Brewer, Perry, their range includes the award winning Smoked Doppelbock. Their gothic styling including their awesome tasting room, is also a great gift or trip for Halloween.
Hong Kong Island:
Black Kite Brewery, Wong Chuck Hang or Little Creatures, Kennedy Town or Hong Kong Beer
Kowloon:
Kowloon Bay Brewery, Chai Wan Kok or Nine Dragons Brewery or Moonzen
New Territories:
Lovecraft Brewery, Gweilo Beer, Fo Tan or Tai Wai Beer or Yardley Brothers
Please be sure to check your home-country customs regulations with regard to bringing in any foodstuffs or alcoholic beverages as souvenirs.  We really don't want you to get into trouble.
Quirky Gifts
Lion Rock Press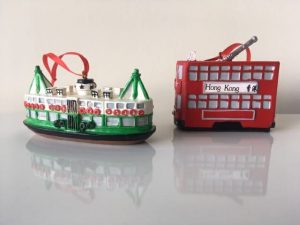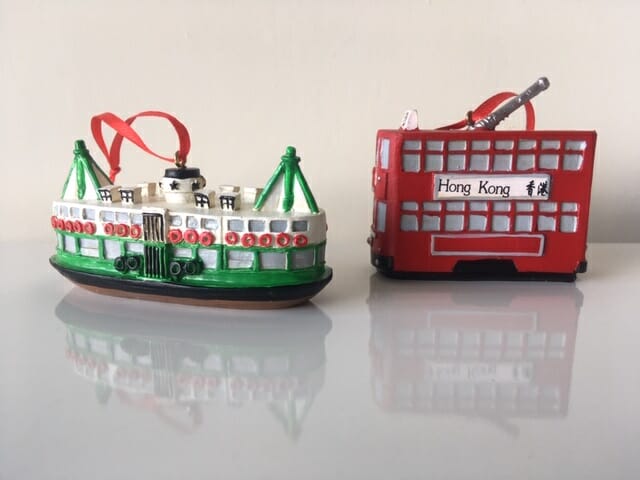 Once you've bought all of those lovely gifts, you might also want some gift wrap, some cards or a few small emergency gifts for anyone you've forgotten to buy for.
Lion Rock Press is an original and homegrown family company offering quirky Hong Kong themed items including a wooden children's dim sum set (a lovely twist on the traditional tea sets you may be more familiar with).
We especially love their handcrafted Hong Kong themed Christmas tree decorations.
You can also find mugs, candles and water bottles.
Books
Our favourite coffee table books are Fan Ho's photography collections (there are a few to choose from). He beautifully captured street life in bygone Hong Kong days.
If you want to learn about the grittier side of Hong Kong, try The World of Suzie Wong by Richard Mason or Hong Kong Noir an anthology by various authors.
Other novels we like include: The Piano Teacher by Janice Y K Lee.  Tai-Pan and Nobel House by James Clavell endure in popularity as does Fragrant Harbour by John Lanchester.
To gain an insight into the experience of foreigners living in Hong Kong, we recommend Gweilo by Martin Booth or Tin Hats and Rice by Barbara Anslow.
For children we recommend the Chinese Calendar Tales by Sarah Brennan. There is one book for each year of the Chinese zodiac. These hilarious rhyming tales are written in English and brilliantly illustrated by Harry Harrison.
These books are available in Bookazine, Kelly & Walsh, Kidnapped and various other Hong Kong bookstores.
Visiting Hong Kong?
Depending on your itinerary, we can certainly try to work one or more of these homegrown shopping stops in.  For example, Wing Wo Bee Farm is close to the slightly bonkers 10,000 Buddhas Monastery.  Tai Wai brewery is just one stop further along the East Rail line, so you could perhaps combine the three for an unusual outing.  It might be possible to combine "Beer, Buddhas and Bees" in your travel itinerary. Contact us at info@hkgreeters.com to see how we can help you.
If you found this gift guide useful, you might be interested to read Avoid these common mistakes tourists make in Hong Kong and How to get from Hong Kong Airport to the City to help you plan your visit to Hong Kong.